Smoke and Mirrors: a Necessity for Living in a Someday Home.
Okay, so not literally (although there have been plenty of times when I've considered lighting a match and walking away). But definitely, one of the best things to help get you through the "in between" or "someday" phases of your renovation is a well-placed distraction.
Not sure what I mean? I actually have two great examples of this in my home- my large ½ of a windmill hanging on my wall and the old barn door propped up against the corner in my living room. Both of these items are hiding some pretty gnarly drywall work behind them (it's on the list to be fixed "someday"), and both of these items serve to distract from the other eyesores in my house.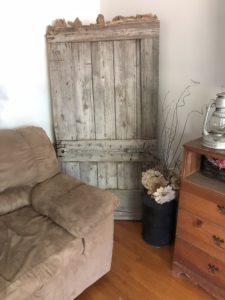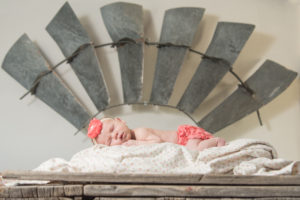 It's not necessarily what these items hide that is important, it is the attention that they draw. The barn door is in a corner of my living room, on the same wall as our television. It's easily the first or second thing you notice when you walk into my living room (after you notice my dog, jumping and flailing at your feet for attention). It's next to an adorable black cream can that I fill with seasonal décor. It's easily my favorite little corner in the house, even though it's hiding some majorly messed up drywall.
In my opinion, the key to finding and utilizing your very own set of smoke and mirrors is a little bit of drama; some shock factor. I know I'm not the first person in the world to have a windmill on my wall (although I will say I did it before I saw JoJo do it… just sayin') or crappy barn door leaning up against a corner, but those are large-scale items you don't see in everyone's homes. I think anyone can make something like this work for them, it just takes a little bit of thinking outside of the box. I think the best distraction items (I hesitate to call them home décor items- can you imagine what my great grandad would think if he knew that the door to his barn now sits in my home? What would the farmer who bought and installed that windmill 50-something years ago do if he heard me call it "decor"?!) are full of personality and a little bit of drama.
Do you have any magic "distraction" décor in your home? I'd love to see your pictures! Share them with me here or on my facebook page!