When it comes to elevating the form and function of a bathroom, nothing fits the bill like a custom vanity.
The modern farmhouse look is IT right now, and it's not hard to understand why! Who can argue with a sense of nostalgia brought into current day life? There's something that feels safe and familiar about it, without looking outdated or fussy. I think I said "yes" before my brain comprehended the question when my dearest friend Melinda asked me to renovate her bathroom.
She and her husband and their four kids had just moved into her childhood home last summer. Her parents lived there for decades, but decided to downsize when a cute townhome hit the market. The house has great bones, but they wanted to update it and add some more modern features to suit their family's needs.
The bathroom renovation
The flow of the bathroom was already great, we just needed to update it. We switched out her goldenrod tub for a new, white soaker tub, added a subway tile surround, added a shower head, replaced the goldenrod toilet for a new white one, and removed the tile on the wall and replaced it with new drywall, and replace the vanity. Her parents had recently had heated flooring installed and it was beautiful and in great shape, so she opted to keep that.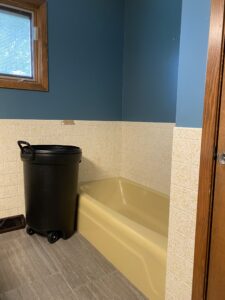 I was a little nervous when Melinda asked me how I felt about building a custom vanity for them. I had built quite a few things before, but none of them were permanent fixtures. Coffee tables, shelves, chests, and dressers… but really, if you think about it, a vanity is basically just a dresser built into place. It all boils down to building boxes. So naturally, after asking her if she was sure about 5 times, I said yes.
Custom Modern Farmhouse Vanity
Based on the inspiration pictures Melinda sent, her style was pretty clear: she liked white, shaker style doors and drawers with black hardware. The overall silhouette was simple and clean; no frills or unnecessary fuss. Clean lines with a nice door/drawer balance. This classic style will work no matter what style she gravitates toward in the future.
The old vanity had one sink with plenty of counter space on either side, so she opted to do two sinks to help accommodate the morning and bedtime rush that comes with having four kids. In a shared space like a bathroom, function is the most important factor. It could be a beautiful space, but if it doesn't work for the people that occupy it, it's beauty isn't worth much. Space is always at a premium and we try not to waste any of it, so I added tip-out trays to the false drawers across the top. The bowls of the sinks interfered too much with the center drawer bank, so I added a tip-out tray for that drawer front too. Obviously a drawer would be better use of the space, but the tip-out trays at least make sure the space can still be useful.
I used these tip-out trays that I found on Amazon (this is an affiliate link, and if you purchase through this link I do earn a small commission). I also used these 3/4" overlay soft close concealed hinges. These are both affiliate links, meaning that if you purchase them through these links, I earn a small commission.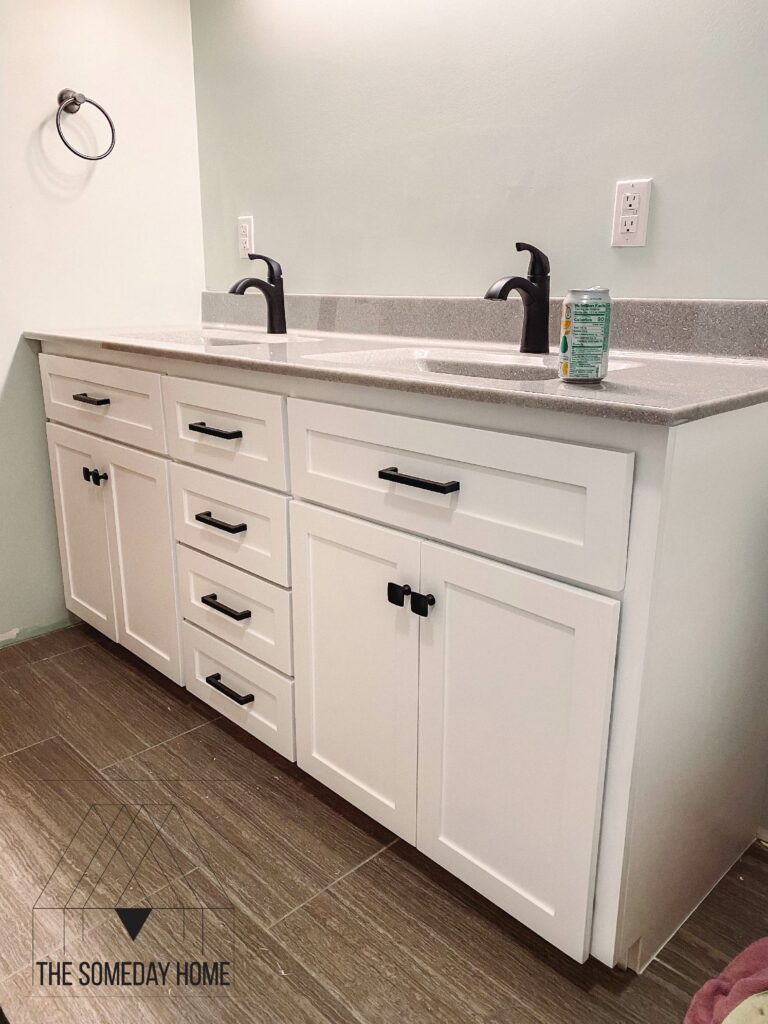 Installation
The part that had me sweating the most was the installation. I wanted to be sure this vanity sat perfectly in place on top of the subfloor under the old vanity. I didn't want to install the vanity on top of the heated tile because I wasn't sure how well it would hold up to the temperature changes of the heated flooring. The measurements of the base also needed to work with the measurements for new vanity top.
The new top was going to be about an inch longer than the older one. To maintain an equal overhang on the front and the right side, I added a 3/4 plywood panel to the side, cut about 1/2" shorter than my original sides so that it could be glued to the side and sit on top of the tile floor. This allowed us to keep a similar overhang on the front and right side.
The beauty of buying a custom built piece is that you get exactly what you want. To inquire about a custom piece of your own, please reach out to me via email at thesomedayhome@gmail.com.