Hello everyone! I'm so excited to share these custom built ins with you!
I was absolutely STOKED When Lexi reached out to me because I've seen the houses she and her husband have renovated before. She wanted to know if I would be able to build some storage and organization space into her laundry room and just outside of her pool area. I had built a couple of bathroom vanities before, but I had never done built ins and I was kind of excited to build something that people could see when they weren't on the toilet.
As soon as I saw Lexi's home, I was humbled that she chose me to do the work for her. She and her husband have put so much work into their space and they've created a gorgeous home for their kids. Although they have ongoing projects, she's somehow managed to create a beautiful, warm space. It felt homey, despite the evidence that it wasn't quite finished. It's a skill I've never managed to nail and one I'm jealous of!
Of course, I didn't manage to snap any pre-install before photos (I wonder if I'll ever stop getting installation day jitters), but believe me when I say that this space was really nice even before these cabinets went in. We just added some function and organization that wasn't there before.
Built in cabinets for pool-side organization
The first thing she asked for in her laundry room was a tall cabinet to go next to the door leading out to their pool for beach towels. We ended up going with a floor to ceiling, two door cabinet with 6 shelves in total. The goal was to provide plenty of space for beach towel storage and pool necessities.
Next to the tall cabinet, Lexi wanted an open cabinet with four spots to store her kids' laundry baskets. The top surface is a great space to decorate, fold laundry, or add some organization that isn't built in.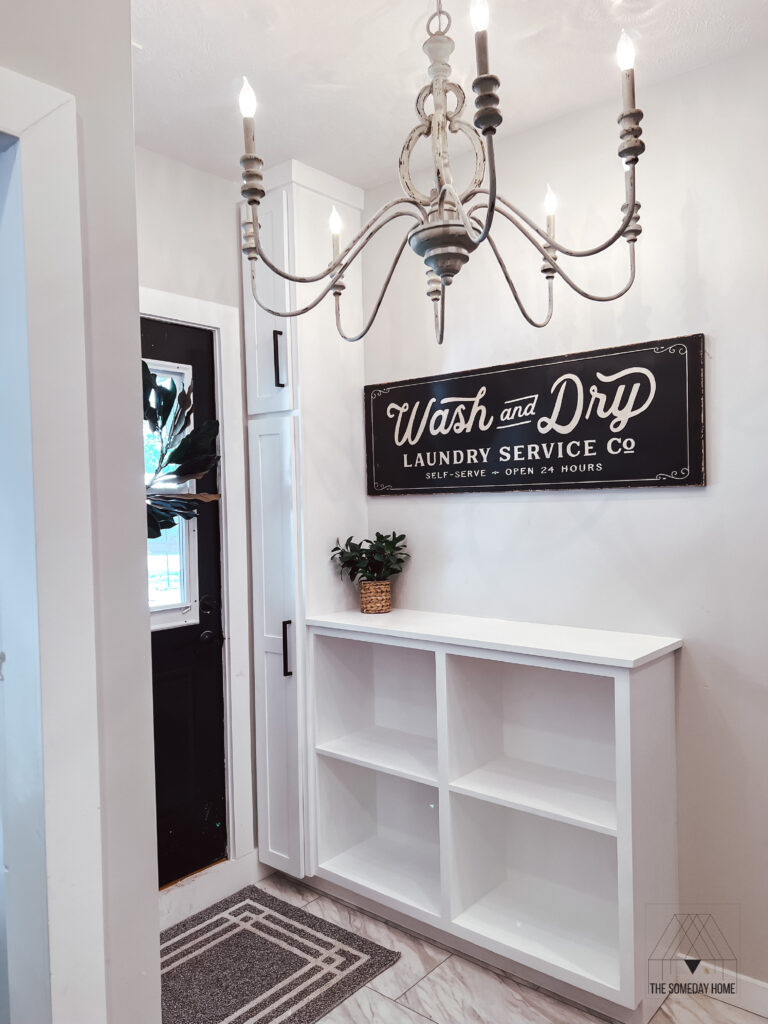 Laundry room built in cabinets
Next, she wanted some built ins around her washer and dryer. Her laundry room has a stacked washer and dryer (great space-saver!), and there was a little over 12" of space from the wall to the left side of the washer/dryer stack. We opted to add tall storage there for her broom, mop, etc., and then some open storage above it. How cute does it look with her decor up there?! We added some upper cabinets to the right of that, just above the washer and dryer. Again, the goal here was to make these look like they were built in with the house, so we opted for a floor to ceiling look.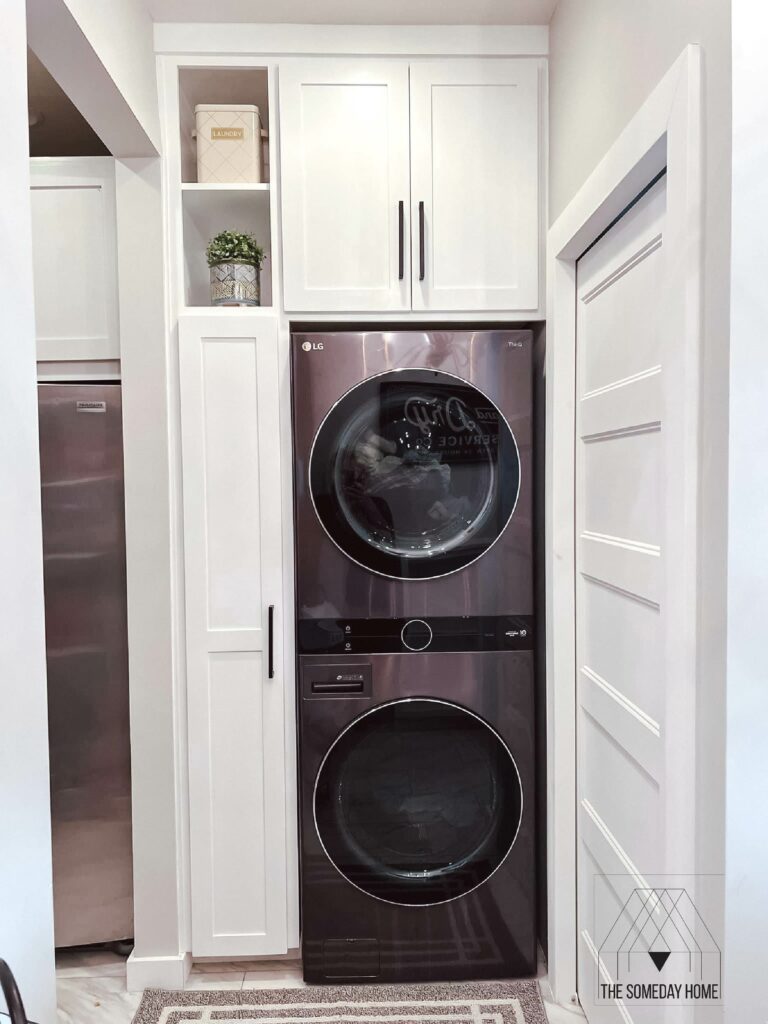 Cabinet design inspiration
Lexi's house completely exemplifies the modern farmhouse look. She's got cozy corners and nooks, tons of white, and some really great black statement walls. Her flooring is a light wood tone that can be seen throughout her home complimented by her wrapped beams and cased openings that add tons of warmth. Pictures of a big, happy family smile down from the walls. It's hard to walk into her house without feeling like you know exactly who she and her family are.
Because the laundry room is just off of her kitchen, we wanted to carry the shaker style cabinetry design into this build. Lexi opted for a chic black cabinet door pull, which always looks classic when paired with white. The rails and styles are 2 2/8" wide to match her other cabinet doors with a half inch overlay. I'm new to the cabinetry field, but I feel like it's a totally timeless look.
Our goal was to add some storage and organization to an already-beautiful space, and I truly believe we accomplished it.