Is a custom vanity worth it? If you've been around here for any length of time, you know my answer to that clickbaity headline is a resounding YES. Obviously, I make my living building and installing custom vanities, so I am 100%, unabashedly biased on this topic, but I wanted to take a minute and have a discussion with you to weigh the pros and cons. There is an argument to be made for prefab, and I want to give a fair shake to the big box guys.
Custom Vanities: Are They Worth It?
First, let's take a step back and look at the big picture. A vanity is your primary piece of furniture in a highly utilized room in your home. The bathroom is probably tied with the kitchen for the hardest working room in the house (a mud room might be another contender for that title, but I still think the bathroom wins out). It takes an absolute beating with the frequent temperature and moisture level changes, high water exposure, and heavy foot traffic.
It's typically not the largest space in the house, but it is asked to house a wide range of items. It's one space that can't afford to be disorganized- it needs to function well to serve its purpose. On top of functionality, we also often ask that it be a relaxing retreat for us at the end of a long day. It's an awfully tall order for a room that typically has a pretty small footprint in your overall floor plan.
Prefabricated Vanities
Let's talk prefabricated vanities. We've already established that I'm a huge advocate for custom vanities, but I'll be honest with you: the two existing bathrooms in my home both have vanities from box stores. That's because we renovated both of our bathrooms before I pursued cabinetry. When we renovate those bathrooms again (sorry hubs, you and I both know it's coming), they'll each get a custom vanity.
Prefabricated vanities definitely have their place. They're budget-friendly and if you're able to pick one up at a store (I'm a fan of the Allen + Roth line at Lowes), you can usually see it in person before shelling out your hard-earned cash. Some of them even come with tops, which takes the guesswork out of choosing one yourself.
In addition to being budget-friendly, purchasing and installing can also save you time. You won't be waiting on anyone to build it for you, and if you install it yourself, you'll really be in control of the timeline. For many people, cost and time savings are determining factors in their renovation plans, and a prefabricated vanity checks both of those boxes. It's quick and relatively easy- and I mean both of those things in the best way possible. As a person living in a fixer-upper home, quick and easy end up being the path we take more often than not.
Prefabricated vanity drawbacks
The main drawback of a prefabricated vanity is that what you see is what you get. There is no level of customization when it comes to size, storage, color, drawer slide options, hinges, etc. If you've got a space that requires a vanity outside of the typical sizes (24″, 36″, 48″, 60″, 72″), you're kind of out of luck. Also, I'm not trying to be elitist or anything like that, but a lot of times the materials used on prefabricated vanities are not to the same level as the materials you'll see used in a custom vanity. While it may save you money upfront, it may not stand the test of time.
Custom Vanities
A custom vanity is a vanity custom-built for your bathroom. I can't speak to the process for everyone, but if you are interested in purchasing a custom vanity from me, the process begins with a walk-through of your bathroom. During that time, we discuss the space and the people who use it. A vanity for a children's bathroom can vary widely from a vanity in a master suite, so I need to have a solid grasp of the needs of the people who will be using it.
As I mentioned before, organization is key in a smaller space like a bathroom. I like to have an idea of what will be stored in the vanity and where, so I can create custom storage solutions to keep items stowed away in their homes. I'm not exaggerating when I say that I once measured a client's skincare bottles to give her the exact drawer depth she wanted on the top drawers of her vanity. I measured her hairspray cans also, to be sure we had the shelf height just right for where she wanted her hair products stored while managing to keep the lower drawers deep enough for the linens she planned to store in them. This level of detail is simply not available in a prefabricated vanity.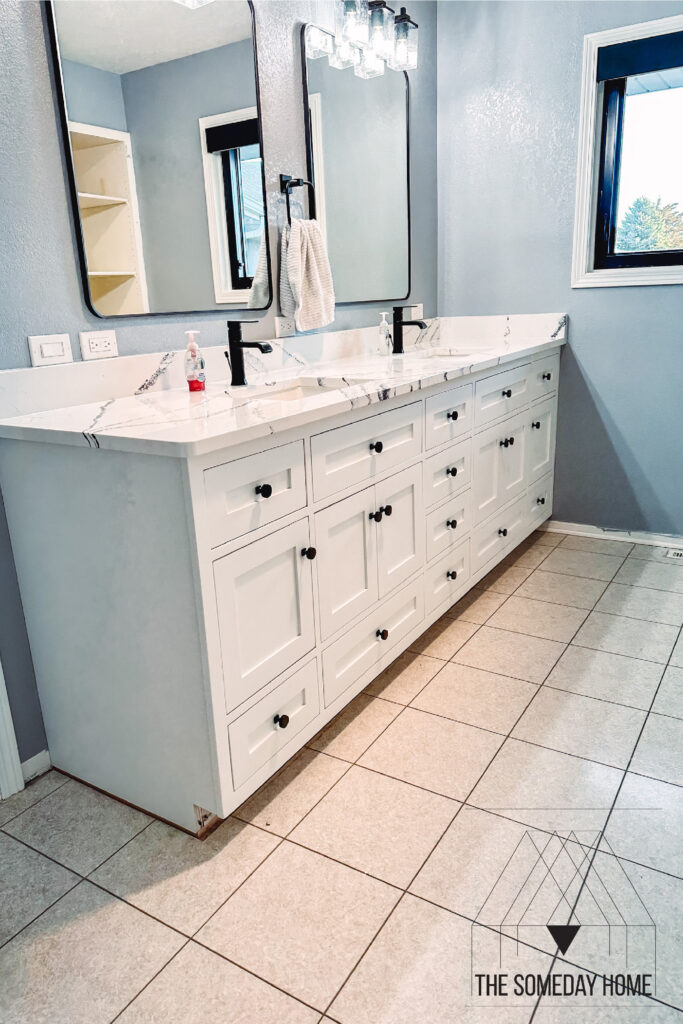 Custom vanity drawbacks
Let's cut right to it. Cost is the only drawback I can see surrounding a custom vanity. A custom vanity is definitely pricier than its prefabricated counterpart simply because of the time and labor involved. Custom vanities are not mass-produced; each component is handled and assembled by a human being. From the time it takes to draft the initial concept to the painstaking process of getting a photo-worthy finish, custom vanities take more time (and money) to land in their final destination in your home.
Who are custom vanities for?
In my opinion, custom vanities are for everyone. But we've already established that I'm pretty biased here. That being said, I do think there are some situations that absolutely call for a custom vanity. For example, if the space in your bathroom needs a vanity that isn't a size you can get in a box store. Wasted space sucks in any part of your home, but it's especially awful in a bathroom. You need a vanity that makes the most of the space you have without leaving any unusable pockets of dead space.
A custom vanity is also helpful if your bathroom serves people with very different needs. We all know that bathrooms can quickly become battlegrounds if guidelines aren't established and adhered to. For example, if adults and children are sharing a bathroom, a custom vanity can allow you to customize storage solutions to meet everyone's needs and keep the chaos to a minimum. Choosing hardware that is little-finger friendly along with surfaces that clean up easily will make everyone's lives easier. Soft close doors and drawers are also sanity-savers, especially if your bathroom is centrally located in your house.
Last but not least, a custom vanity is also vital in an upscale, master suite. All I'm saying is that when I'm finally able to design and build my master suite, I'm going to make it worth it. A custom vanity can be the crown jewel of a bathroom or it can be a subtle footnote to a gorgeous tile job, antique mirrors, or any other element you want to pull the focus to.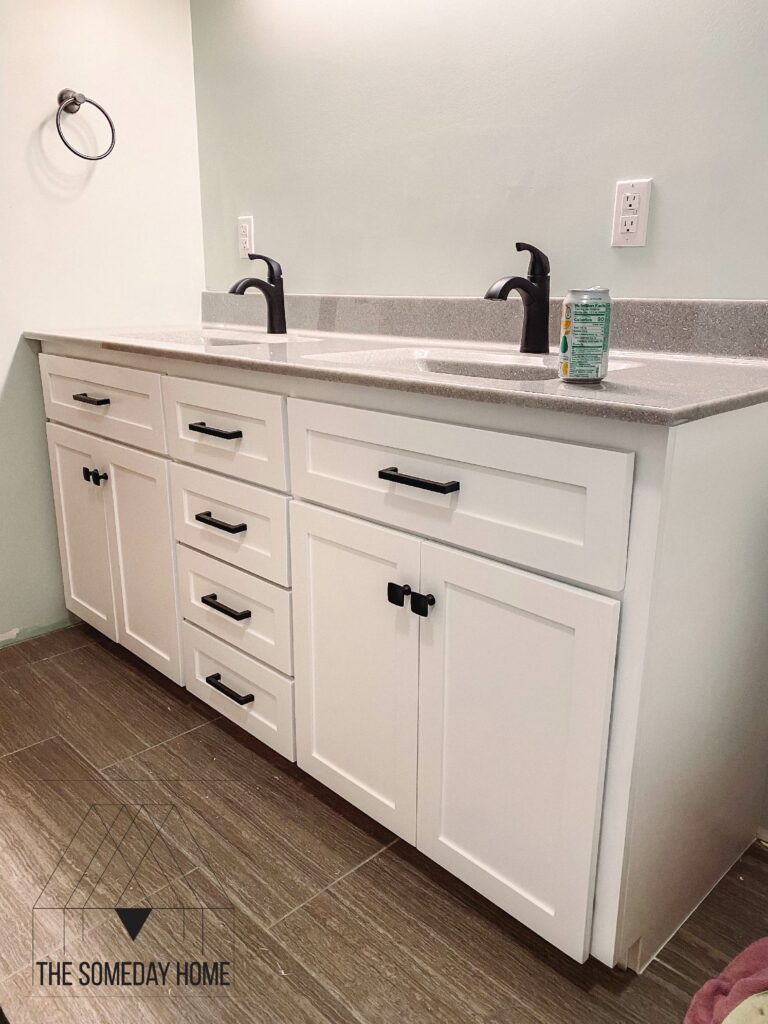 The verdict
If I were someone who didn't believe so vehemently in the power of a great vanity, my philosophy would be simple. Determine your most important bathroom and put a custom vanity there. "Most important" will vary widely from person to person, but that's the beauty of it.