First off, this is not a paid post. I'm just sharing with you all because I really love this product.
I've used a lot of finishing products in the last five years, but none of them have topped this one for me: Minwax Wipe-On Poly in Clear Satin. This stuff gives me a perfect finish every single time and it dries so fast! I'm not a high-gloss kind of girl– I'm just not. This poly is perfect because it gives wooden projects just the right amount of sheen (which, in my opinion, is minimal) to look finished and because it's a wipe-on product, you don't have to worry about brush strokes or unevenness.
It couldn't possibly be easier to use, as long as you can read the back of the can. But, just in case you were wondering how I do it, here's my step by step:
1. Grab a rag.
I like to use something soft and smooth enough it won't leave drag marks in the poly, and also won't pill or shed. I've found an old t-shirt works perfectly for this.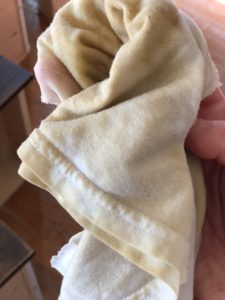 2. Put on at least one glove.
I've learned this lesson more than once the hard way. I skipped the glove this weekend when I was finishing Owen's dresser, and my hand was sticking to everything (think Clark Griswold after he cut down his Christmas tree) for hours.
3. Douse your rag in poly.
You really can't go wrong at this point. Even if you get too much on your rag, you'll even it out once you begin to apply it to your finished piece.
4. Apply to your finished piece.
Rub the poly onto your piece in smooth strokes, going with the wood grain. I typically like to start at one end of the piece and run the rag all the way to the end without stopping (when possible), just to ensure I avoid any strange marks.
5. Check your work often.
Check your work from various angles to make sure you're coating your project evenly.
And that's really it! I usually find my first coat of poly dries within an hour (depending on the temperature and humidity of my workspace). I like to lightly sand (by hand, with nothing courser than 320) and then apply a second coat, typically.
It's at this point that I wish I had thought to take a before and after photo, but of course, I got wrapped up in what I was doing and didn't even think about it until it was too late.
You can find Minwax Wipe-On Poly at most lumber yards and home improvement retailers, but I always buy mine at Menards (because, as I might've mentioned before, we practically live there).
This was the perfect finishing touch for Owen's dresser. I finally got it finished and in his room and I don't think I could be happier with it! I can't wait to share the story with you all.