As much as I love torturing myself with detailed and fussy designs, sometimes a classic, clean look is the way to go. That was just the case in the accent wall I recently installed at The Fixx.
A luxury salon and spa that looks like it was pulled straight from the pages of Magnolia Journal is a surprising find in a town with a population that barely scrapes 1,000, but Chloe and the girls at The Fixx have created the most refreshing experience I've seen in a long time on a small town Main Street. Chloe has expanded 3 times since launching the salon back in 2019 and it's not hard to see why. The atmosphere she and her cosmetologists and estheticians have created is fun and welcoming and their clients get an elevated luxury experience that, frankly, is not usually available in rural Nebraska.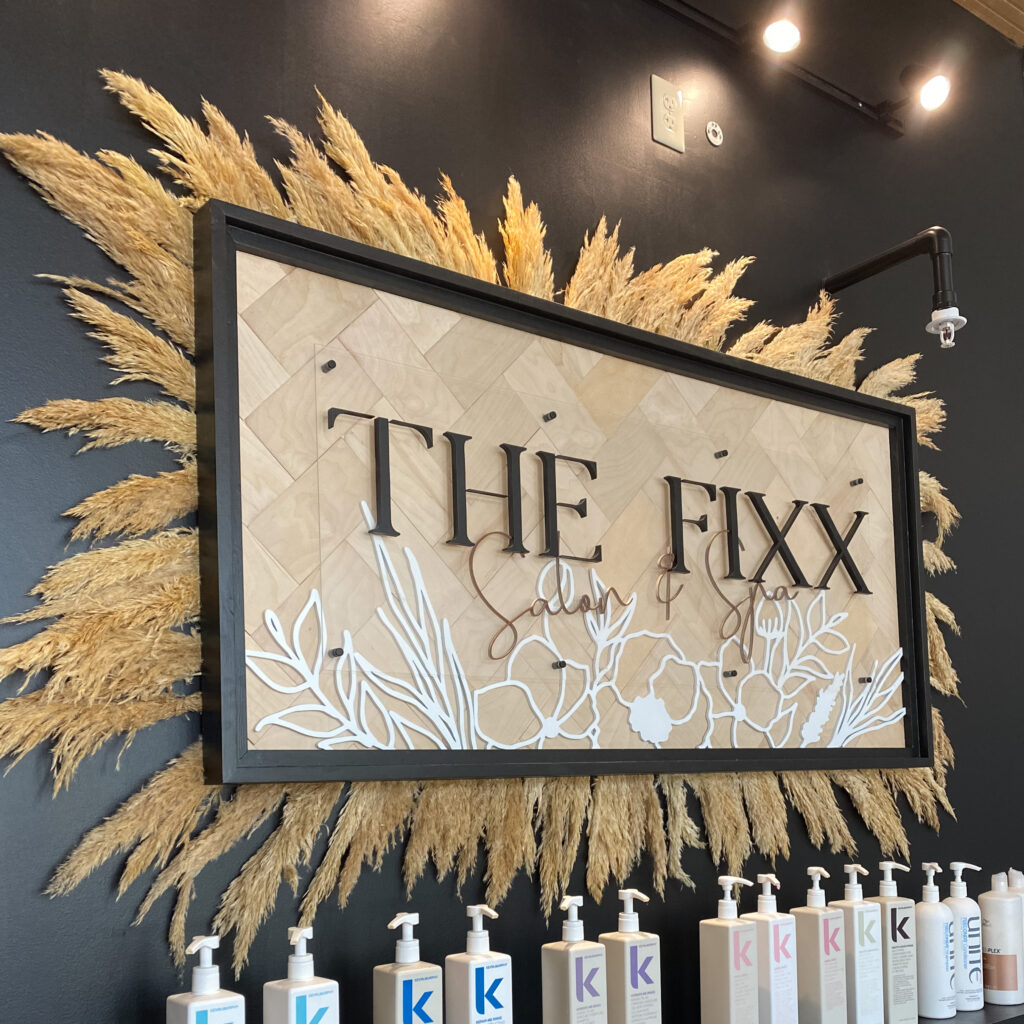 The Challenge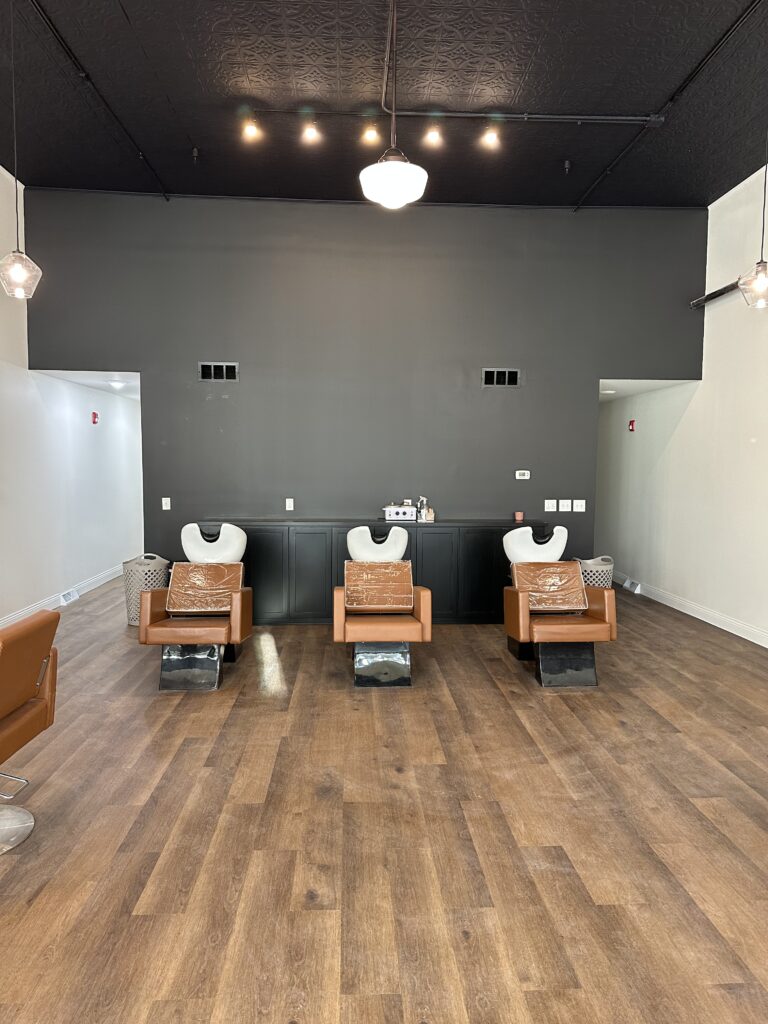 I was excited when Chloe reached out to start bouncing ideas for the accent wall. After creating a logo sign for her a couple of years ago and spending some time in the salon, I felt like I had a pretty good handle on her style. I knew whatever we were doing, it was going to need to strike a balance between modern and familiar; striking, but still warm.
Immediately upon entering the new space, your eyes are drawn to a large wall, painted in the salon's signature dramatic black. I was excited to see some original elements of the historic building, like the decorative ceiling tiles, and their gorgeous leather chairs.
Accent wall design
I wanted to keep the overall design chic and sophisticated- a classic look that would serve them for years to come. We thought natural wood would provide a striking contrast against the black wall; poplar has a pleasant, subtle grain that serves to add some texture and warm up what could be an empty and cold wall. We opted to take it all the way to the 14 foot ceiling to highlight the expansive space and draw attention to the gorgeous pendent lights Chloe chose (and to test my nerves on the ladder… it was a struggle).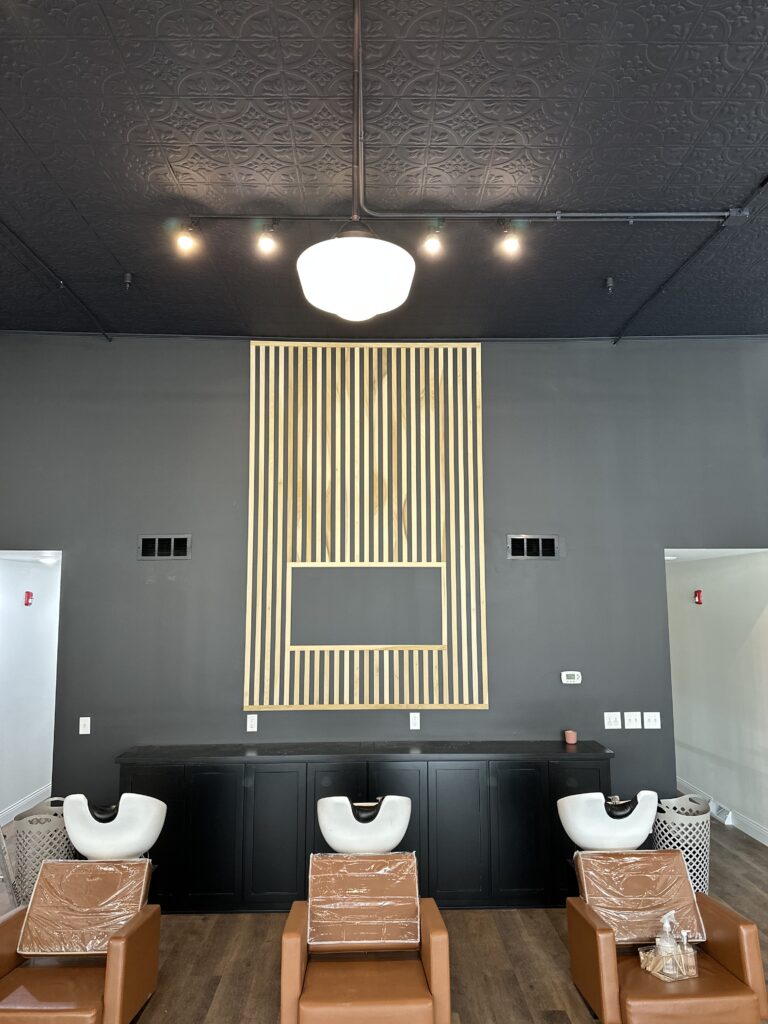 Some spaces just speak to your heart. They feel good. That has been the case every time I've stopped in to do work at The Fixx, and for good reason- it exists to make its patrons feel good. I am honored to have a small part in building a space like this, and I can't wait to see what is next to come for The Fixx!