I was thrilled when one of my favorite customers reached out to me to chat about loft bed and storage solutions for her kids' rooms. (My favorite greenery sign was designed for her family!) I was in the middle of building my second or third vanity of the summer and I was ready to stretch my skills and build something different. I had no idea how far this would push my skills and my garage space, but I'm so happy with the results!
Kid's Loft Bed with Storage
A new home often means different space constraints and opportunities for creative thinking… and that's exactly what landed Johnna in my inbox. She and her family had recently moved into their gorgeous new home and she was looking for a new bed and storage solution for her children's rooms. Her online research gave her a pretty solid grasp of what she was looking for; we needed set of loft beds that would each house a twin mattress on top with room for a queen on the bottom. She also needed drawer storage and bookshelves for each room.
Johnna sent me their floor plans and we FaceTimed so I could wrap my mind around the space we were working with. There was drawer storage in a set of stairs in the inspiration pictures she sent, but we quickly determined that wouldn't be feasible in either of the bedrooms. There just wasn't going  to be enough space for the stairs off of the end of the bed, no matter how we oriented it in the room. The stairs weren't a make-or-break design component, but she really needed the storage. I promised to figure out a storage solution and got to work with my pencil and graph paper.
Under the bed storage
Like nearly all of the design ideas I'm most proud of, the idea for the under the bed storage unit came to me while I was on the toilet. Kidding 😜 I was at the park with my kids, scanning the playground and making sure nobody was licking the monkey bars or stuffing their pockets with park treasures (ie: abandoned beer bottle caps, sucker sticks, and used bandaids) while the unsolved storage issue wrestled around with itself in the back of my mind. I knew we could add a narrow bank of drawers while still fitting a queen sized mattress under the bed, but the thought of 40" drawers was pretty ridiculous. There was always the option of leaving empty space behind them, but the idea of leaving that much wasted space made my skin crawl.
Suddenly I had the thought that I needed to consider the view from the queen bed. If I had built a solid drawer bank that spanned the full depth of the space, it might feel claustrophobic. Also, where was the queen bed occupant to put their phone, lamp, alarm clock, etc.? Asking these questions forced me to explore the design from more than one view, and ultimately, I was able to offer Johnna and her family a solution I was really proud of.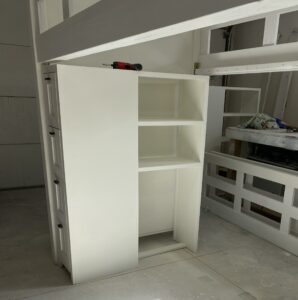 As much as I've always thought of myself as a top bunk kind of gal, the cozy nook these shelves provide is enough to make me reconsider.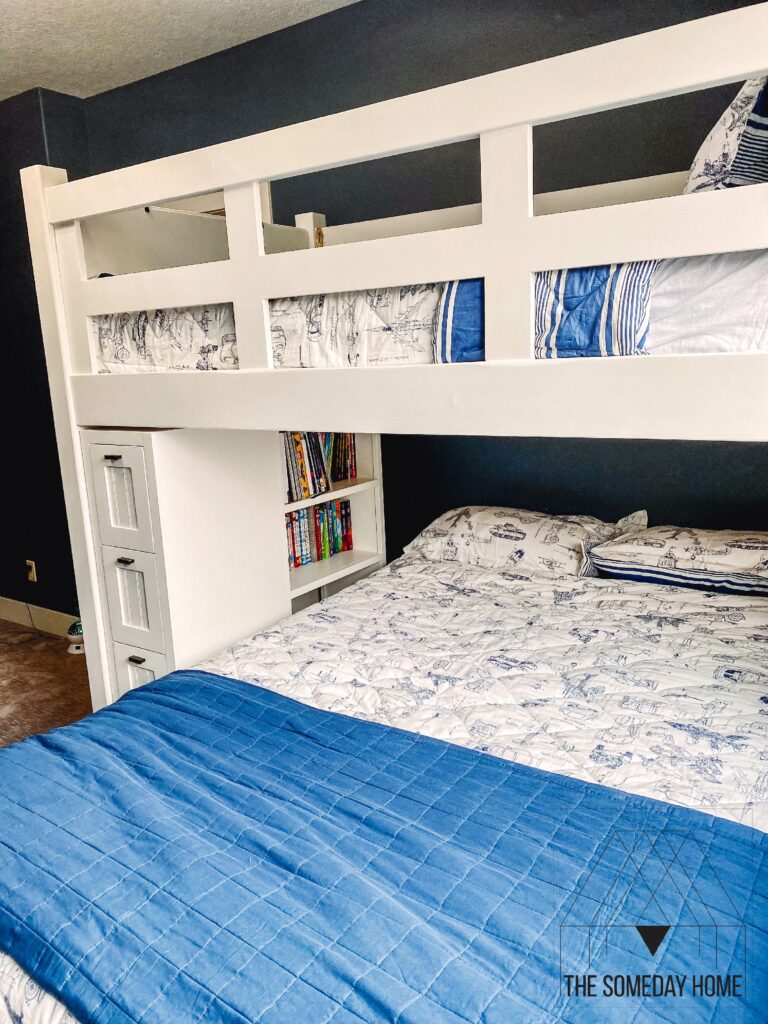 Loft bed design
Aside from functionality, aesthetic is one of the most important considerations. We noticed that some of the inspiration pictures had kind of a cheap, DIY look to them. While their general concepts were great, the stained construction-grade 2 x 4s with visible pocket holes didn't match the style of Johnna's home.
Although we ultimately decided to use pine, I spent a solid week sanding, priming, filling grain, and re-sanding and priming to try to get as smooth of a finish as I could. We also added bead board and moulding for an elevated craftsman-meets-cottage style. I pulled the bead board element in for the center panel of the shaker style drawer fronts to help tie the design together from all angles.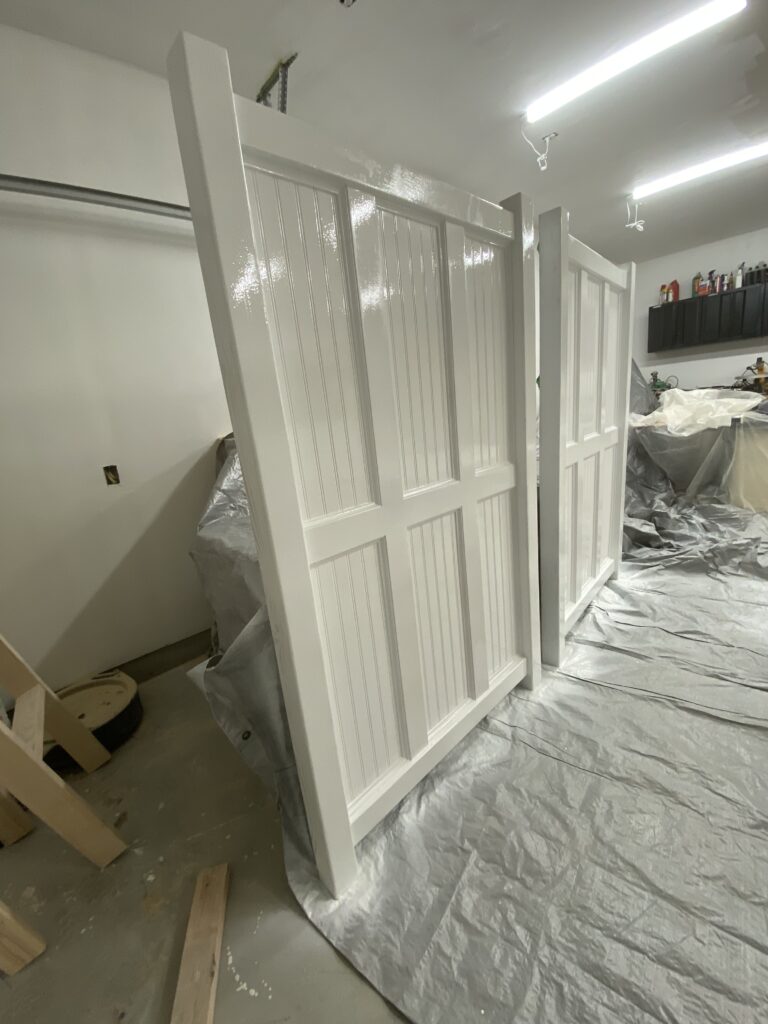 My goal was to create bedroom furniture that would last the test of time both physically and stylistically. The best solution is always the one that makes the most of the space you have. Functional furniture with an aesthetic that matches your space wins every time.