Owen's dresser is finally finished and moved into his room, and you guys, I am over the moon excited to have it in there! (And to finally have it out of my garage!)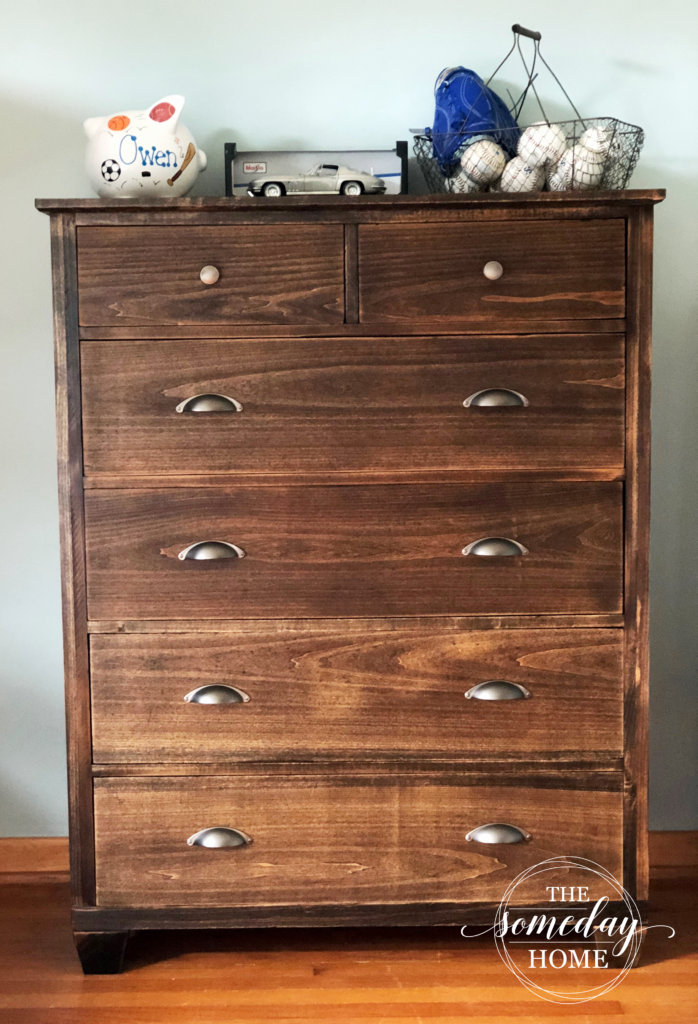 This was one of those projects that had been sitting around in the dark corners of my brain for a while. I knew we needed to do it and I had been dreaming of building it for years now, but with pregnancies and little babies and building my paint party business, the last 4 years really got away from me. I'm happy to say it finally got moved from the overflowing "to do" column to the sadly sparse "done" column!
I'll be building another one for Barrett as soon as he's tall enough to see into the top drawers (which will probably be, like, tomorrow). With 3 kids in one room, I have to be creative with the furniture we use, which is the main reason I love building my own things. There's a level of customization you just can't get when you buy. As our kids grow, I'm finding I need to really re-think the set up of their bedroom. The goal is to get them all in the basement soon, but there's a laundry list of projects that need to happen before our downstairs will be inhabitable.
The Plans
I used these free plans from hertoolbelt.com and I'm not sure they could've been any easier to follow. She does such a great job breaking down the step by step instructions, I'm not even going to bother trying to recreate them here. Seriously, if you're considering doing this project, check out her plans.
Finishing Details
We used poplar for our dresser, and I think it came out so pretty. I normally advocate the use of cheap pine boards for home projects, especially if you're a beginning DIY'er, but I wanted to avoid the tiger-stripey look you can sometimes get with pine. The wood grain and pattern is more subtle but still very beautiful.
What do you guys think of the subtle distressed look? I used a 2 step staining process that I will share with you all next week- it's the perfect way to add some depth to your projects and get the perfect tone, and it's suuuuuper easy. I used Minwax stains in Espresso and Early American. Of course, I finished it off with my favorite poly.
I wanted the dresser to have an industrial look, so I chose these simple round drawer pulls from Brainerd and these beautiful Allen + Roth drawer pulls for the bottom drawers. I got them both from Lowe's.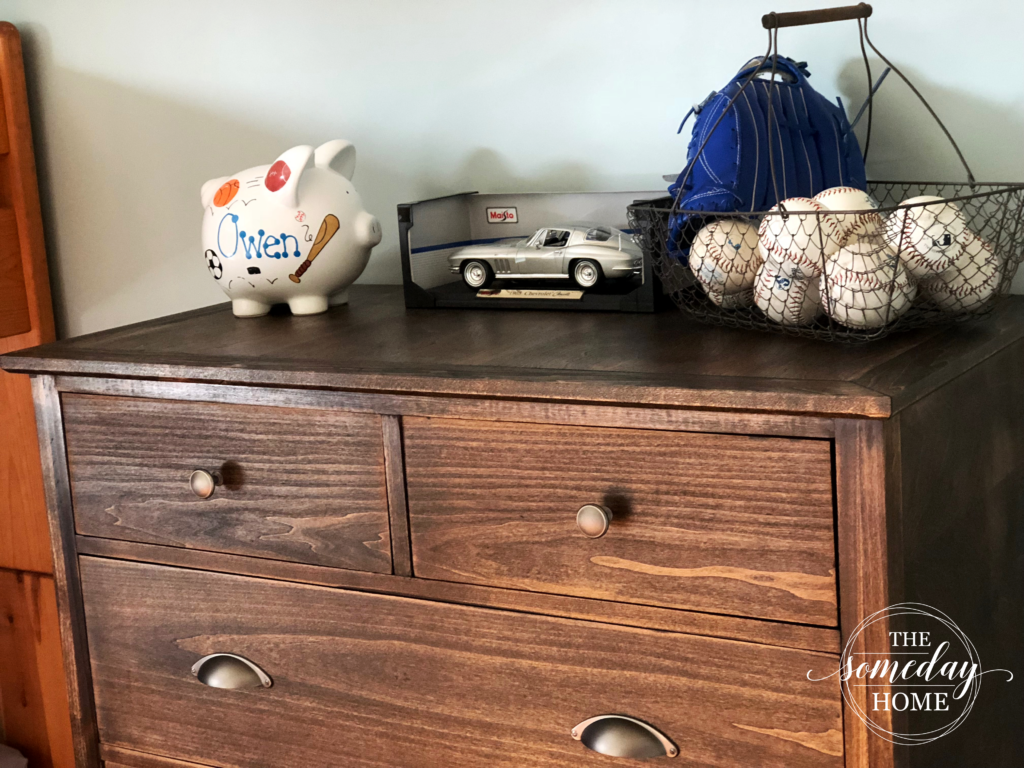 Seriously, I have all the heart-eyes for this dresser. I told my kids not to be freaked out if the woke up with me in their room, drinking my coffee and quietly admiring my work 🙂
Have you taken on any projects lately? I would love to see what you've built! Leave me a comment with a photo of your work!